Family Fun
Come down to Wailea and enjoy the 1st ever Maui Mermaid Extravaganza! Hosted by the Enchantress Gallery in The Shops at Wailea, break out your glitter and shine those tails, this event is about celebrating your inner mermaid! When: Saturday, July 15th from 5:30pm to 7:30pm. Where: The Shops at Wailea. The event features:
A fashion show by award-winning designer/body painter Rachel DeBoer
A mermaid costume contest with cash prizes (The best mermaid under the age of 12 will receive $25 and the best mermaid age 12 and over will receive $100 cash)
Mermaid cake by master pastry chef Teresa Shurilla
Music by Tempa & Naaor
Artistic rendering of the Hui No'eau on Baldwin Ave.
This is one of the family events of the year! Bring the whole family to come and celebrate 100 years of Kaluanui at the Centennial Festival & Family Day! Hosted at the Hui No'eau on Baldwin Avenue, the event is free for all and holds all kinds of activities for everyone. Check out the scavenger hunt, art projects for kids, local food trucks, and the Hui No'eau's Art Market which features a ton of local vendors selling uniquely Maui products! Even enjoy live music by members of the Kalama Ukulele Band and up and coming Maui singer/songwriter Bristol Dunlap. When: Saturday, July 22nd from 10:00am to 2:00pm. Where: Hui No'eau Visual Arts Center on Baldwin Avenue.
A great way to spend summer Friday/Saturday nights are the Obon Festivals held throughout the summer months of the year. The events are a Japanese food and dance festival celebrating loved ones who have since passed on. Obon is a centuries-old Buddhist tradition and every summer in Hawaiʻi, Buddhist temples come alive with colorful celebration: kimono-clad dancers, music, favorite local foods, and more.
July 1 (Sat) Lahaina Jodo Mission, 12 Ala Moana St., service and Toro Nagashi 6:30 p.m.; dance 8 p.m. (808) 661-4304
July 7 (Fri)/ 8 (Sat) Pāʻia Mantokuji Mission, 281 Hana Hwy., service 6 p.m.; dance 7:30 p.m. (808) 579-8051
July 14 (Fri)/ 15 (Sat) Kahului Hongwanji Mission, 291 S. Puʻunēnē Ave., service 6:30 p.m.; dance 7:30 p.m. (808) 871-4732
July 21 (Fri)/ 22 (Sat) Makawao Hongwanji Mission, 1074 Makawao Ave., service 6:30 p.m.; dance 7:30 p.m. (808) 572-7229
July 28 (Fri)/ 29 (Sat) Kahului Jodo Mission, 325 Laʻau St., service 6:30 p.m.; dance 7:30 p.m. (808) 871-4911
The Arts & Culture
If you love reggae music, this is the concert for you!  The MayJah RayJah is an annual "must experience" music festival that has become a true staple and premier concert in Hawaii's island music scene. This year they are taking it up a notch with the biggest line-up in its 8-year history. Featuring a premier line up of island entertainment with Grammy nominated reggae group, SOJA, along with New Zealand's reggae heavyweights, KatchAFire and Manalion, and always surprise guest performers! When: Saturday, July 29 from 5:00pm to 10:00pm. Where: the Maui Arts & Culturual Center.
The Maui Coffee Association will present their 10th Annual Seed to Cup Coffee Festival, the event is meant to be a fun educational day for anyone interested in coffee. Coffee brewing and coffee roasting will be on demonstrated throughout the day with free tastings of Maui's award-winning coffee. The Mill House Chef Jeff Scheer will also even have coffee inspired and infused food for sale; coffee beer made by Kohola Brewery made with 100% Maui Coffee; coffee pulping and hulling demonstrations begin at 10:00am and will run throughout the day. There will even be a Coffee inspired Fashion Show! When: Saturday, July 22nd from 9:00am to 3:00pm. Where: Maui Tropical Plantation.
Adults Night Out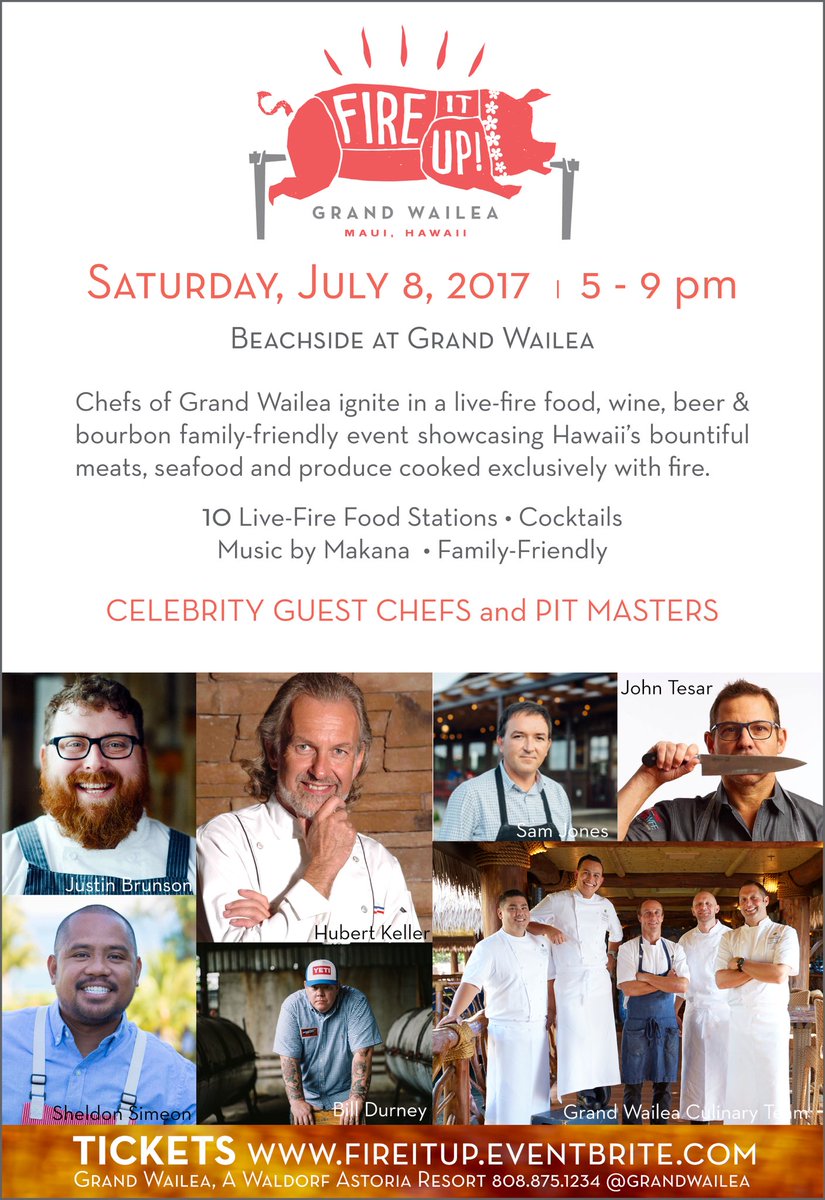 Fire it Up! Chefs of Grand Wailea Ignite is a live foodie event showcasing food cooked over an open fire and pairs it with the ideal wine, beer & bourbon to suit the dish. The event is a meticulously curated event to show off Hawaii's bountiful meats, seafood and produce; the flavors of each ingredient is enhanced by its preparation over fire. Executive Chef Ryan Urig assembled his team of unparalleled talent and compliments them with the expertise of Celebrity Chefs/Pit Masters. The event is held beachside at the Grand Wailea for the summer's most innovative food and music event. When: Saturday, July 8th. Where: The Grand Wailea Hotel from 5:00pm to 9:00pm.
4th of July Celebrations
Lahaina Town is a great place to go for the 4th of July since it caters to visitors, Front Street will for sure have some sort of celebration and is a great place to catch the fireworks show over Ka'anapali. I suggest making an afternoon out of it and staying for Maui's natural firework show, the famous West Maui sunset.
Artistic rendering of the fireworks over Lahaina
The Outlet Malls at Lahaina is the perfect example of Lahaina Town always having some sort of celebration for a major holiday. They have worked with local food truck vendors to come out and provide the food for the celebration! They will even have live entertainment in the afternoon and it is free to all! The itinerary is as follows:
2:00-3:00pm  Aumakua Polynesian Spectacular
2:00-3:00pm  Walk-Around Magic by Brenton Keith
2:00-4:00pm  Balloon Twisting & Face-Painting by Cirque Jolie
3:00-4:00pm  High Energy Magic Comedy & Magic Show  by Brenton Keith & His Bag O' Tricks
4:00-8:00pm Jazz Maui presents: Lee Norris Jazz Metropolis- DJ / Emcee; Na Alii Big Band; June Skies Jazz Combo; Prem Brasso Jazz guitarist
Contact a South Maui Real Estate Specialist
Enjoy amazing Wailea nights amongst flickering of tiki torches and soothing waterfalls
Please interview me to be your trusted Maui Real Estate and Lifestyle Advisor. I was born and raised on the island, and spend a considerable amount of time to inform my clients about the best deals currently on the market. Please do not hesitate to call me for your Maui real estate needs. I am more than happy to assist you in your home search.
Mahalo,
Anthony Sayles
(808) 280-6531
Anthony@DanoSayles.com