Maui Home Sales See Strong September
Via the latest stats released by he Realtors Association of Maui (RAM), the median price for a home on Maui shot up by 16% compared to the same time last year. While transaction numbers were done in September 2018 where it saw 80 sales vs the 81 sales in September 2017, we saw a surge in median sold price.
The median price of a single-family home on Maui last month was $754,248, compared to $650,000 in September 2017.
342 Kualona Place, a stunning Wailea estate listed by the Sayles Team
Wailuku saw a fruitful September where it represented 30% of all sales in the month; Kihei and Haiku also saw strong sales with 9 each or 11% of all sales. Meanwhile, on the least productive end, Kapalua and Pukalani experienced slow months with 1 sale each.
September also some notable sales with 3 selling for more than $2 million:
$2.68 million: Located in the gated in the Kapalua Pineapple Hill community, on almost a half acre of land this single level home was sold fully furnished, custom built 3-bedroom, 4-bathroom, and entails nearly 7,000 sq ft under roof.
$2.5 million: An elegant two story custom Kaanapali home framed with breathtaking ocean views, the home blends architectural harmony into the finest of Island style living. The spacious floor plan opens seamlessly into a beautiful pool spa lagoon and nestled above a 2 acre green belt in the community.
$2.3 million: As the former Marlon Brando estate, this astounding Haiku estate offers superb privacy and open space, with over 26 acres and incredible views in all directions. 2-story 3bd/2ba layout is complete with an open floor plan and wrap around covered lanai.
Maui Condo Sales Impress In September
Maui's condo market is having a year to remember in 2018 with more than a 20% increase in sales volume and a 10%+ increase in median price compared to the same time last year.
Maui is not the only island seeing strong sales in the condo market, but the Valley Isle is the only island (aside from Kauai) to see a double digit gain in sales figures through the first 9 months of the year. Sales figures include both new construction and resale units.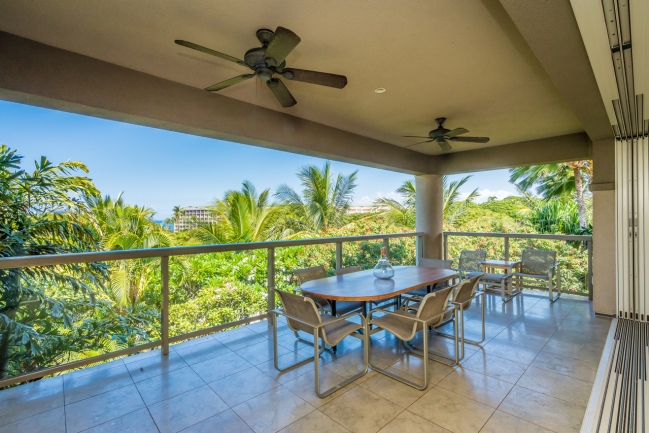 The view from our latest Ho'olei listing 
For perspective, in the first 9 months of 2018, there were 1,277 condos sold; whereas, during the same time in 2017, there were 1050 units sold. The first three quarters of 2018 saw an increase of 21.6%.
The median price of those units was $499,000, which was 11.4 percent higher than the median price last year, which was $448,000.
Some notable condo sales by the Sayles Team: 
$3.5 million: When we brought this unit to market, we were absolutely excited about what it had to offer. Wailea Point 1403 is an absolutely breathtaking oceanfront unit that offers direct access to one Wailea's most popular beach and walking paths.
$2.07 million: Ho'olei 93-2 was an interesting deal because the villa was never actively for sale on the open market or listed in the MLS for the public to see. The property itself is the 2nd biggest floor plan available at Ho'olei and offers a stunning open concept design. The 2nd floor houses the main living area of the villa with its 298 sqft upper lanai just off of the kitchen and large island in the kitchen for entertaining.
$1.59 million: We are proud to have represented our 2nd resale transaction in the Keala O Wailea community and were pleased to bring a 3 bedroom, 2 bathroom, and 1300+ sqft unit to market in the middle of June. We held the list priced firm throughout its entire time and were happy to have stuck to our guns.
Contact a Maui Real Estate Specialist
Please interview me to be your trusted Maui Real Estate and Lifestyle Advisor. I was born in South Maui and raised on the island, and spend a considerable amount of time to inform my clients about the best deals currently on the market. Please do not hesitate to call me for your Maui real estate needs. I am more than happy to assist you in your home search.
Aloha,
Anthony Sayles R(S) 808-280-6532
Anthony@DanoSayles.com