Is Maui's Housing Bubble on the Horizon?
Via the latest stats released by the Realtors Association of Maui (RAM), the median price of a single family home in Maui reached $769,000 in the month of July. However, July's median price is still about $10k shy of the median price record set back in May 2005 and July 2006 at $780,000.
If we look at some historical data, the numbers tell an interesting story and may be indicative of the future. In 2006, there were 7 straight months where median home prices were at $700k+; compared to the first 7 months of 2018, 4 months have averaged more than $700k.
Our latest Wailuku listing sitting on 3/4 of an acre
While the real estate market has been kind to agents over the last few years, many of us still remembered what happened in 2008 and what those kind of times mean for agents.
Via RAM's July report,
"Housing price bubble chatter has increased this summer, as market observers attempt to predict the next residential real estate shift. It is too early to predict a change from higher prices and lower inventory, but the common markers that caused the last housing cool-down are present. Wages are up but not at the same pace as home prices, leading to the kind of affordability concerns that can cause fewer sales at lower prices. At the same time, demand is still outpacing what is available for sale in many markets."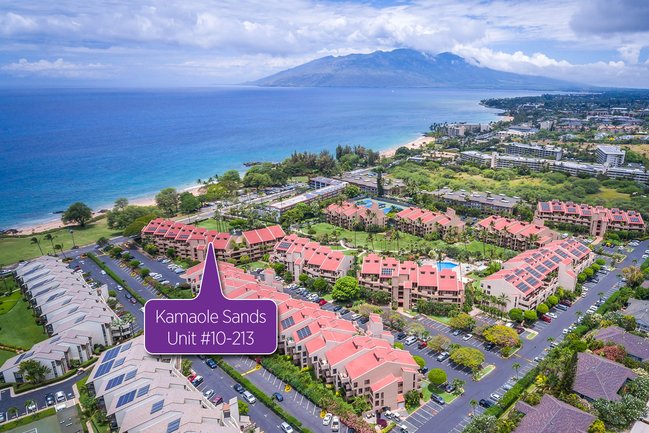 Our coveted Kamaole Sands listing
It is the continued shortage of supply and rising demand that is continually driving up prices. In July 2018, the single family inventory sipped 14.4% to 499 homes, compared to the same time in 2017. Although, new inventory has helped a little with a 12.8% increase of listings coming to market.
The housing affordability index fell 13.7% to 44, compared to the 12-month average of 50. The index number represents housing affordability for a region. Based on a 120 point scale, a higher number means the real estate in theory should be more affordable than a low number.
Maui Condo Stats July 2018
Our direct ocean front condo listing in North Kihei
While on the condo front, median sales priced increased a whopping 16.6% to $513,163, which is up 7.6% from the 12 month moving average of $468,000. With visitors in town for the busy, it contributed to the supply of buyers in the market competing over dwindling inventory. The number of available condos dropped close to 25% to 562 units in July, whereas the 12-month average inventory of inventory is 648 units.
New listings for condos were down slightly at a 2.7% decrease to to 145 in July. The affordability index of condominiums for buyers dropped 19.8% to 65 in July.
July 2018 Maui Real Estate Stats
Maui Single Family Homes
Most transactions by area:

Wailuku-28
Kihei-17
Kahului: 16
Overall, July sales were up 22.8% to 113, compared to July 2017; however, aside from the 3 above,  all other areas saw single-digit figures or no sales in July.
Maui County's least expensive area is not even on Maui, because technically Molokai also falls under the Maui district. For perspective,  the average median price of single family home on Molokai is $382,000.
Maui Condos
Most transactions by area:

Kihei-51
Napili-Kahana-Honokowai-20
Wailea-Makena-19
Kaanapali-11
Lahaina-10
Condo sales in July grew 34.7%  to 136, with Kihei having seen 372 properties sold since the start of the year. The Wailea-Makena area is in second with 147 and the Napili-Kahana-Honokowai region with 143 condo sold through July.
The least expensive condo units were in Kahului, where it averages a median price of $120,175.
Contact A South Maui Real Estate & Lifestyle Specialist
Ho'olei villas, we are also currently the in house "Sayles" team at Ho'olei Grand Wailea
Please interview me to be your trusted Maui Real Estate and Lifestyle Advisor. I was born in South Maui and raised on the island, and spend a considerable amount of time to inform my clients about the best deals currently on the market. Please do not hesitate to call me for your Maui real estate needs. I am more than happy to assist you in your home search.
Aloha,
Anthony Sayles R(S) 808-280-6532
Anthony@DanoSayles.com