Maui's Real Estate Trend
The Maui real estate market is starting to pick up major momentum since the financial crisis of 2008. First time home buyers heading into the market will need to be more qualified than in years past. This is in part due to new stricter requirements to secure a home loan.
160 Kaimanu Place, Listed by Lucas Woodford of the Dano Sayles Team for a cool $8.9 million
There is another type of buyer dominating this market.  The more affluent, investment buyer is  eager to spend the cash they have been holding onto until the market stabilized. That it is why it's ever more important for first time home buyers to act quickly and make an offer. I also suggest that buyers get pre-qualified so that realtors can confidently negotiate deals on behalf of their clients (with full knowledge of their clients' budget). It also puts sellers at ease when working with buyers who take the initiative to be prepared when purchasing a home.
168 Ahekolo, listed by the Sayles team for $1,125,000
Home prices are poised to steadily incline in 2014, straying away from past volatility. Prices increased nationwide by 10.9%, pushing the median price for existing homes up by $30,000, to $215,000. Compared with Maui, residential deals completed are up 4% with average sales prices up 11% & median up 13%. Condo sales are up 6% with average prices up 22% and median is up 5%.
Like basic supply and demand says: in early 2013 there was a shortage of inventory which did drive prices up somewhat. But now we are now seeing things get back on track as more Maui properties hit the market evening out prices.
Ho'olei Unit 12-3, listed by the Sayles team for $2,150,000
Nationwide, homes are staying relatively affordable despite a few upticks average listing price — on average, prices are still 31.5 percent below their 2006 peak. Good news for buyers as Clear Capital, a provider of real estate data and analysis, believes that home prices will rise in 2014, but at a slower, more steady pace compared with historical trends.
Contact a South Maui Real Estate Specialist
If you prefer newer construction, then the Hokulani Golf Villas for sale might be a better fit. The Dano Sayles Team is the exclusive listing brokers for the community. We are committed to spreading the aloha spirit, and helping our clients find their perfect Maui lifestyle.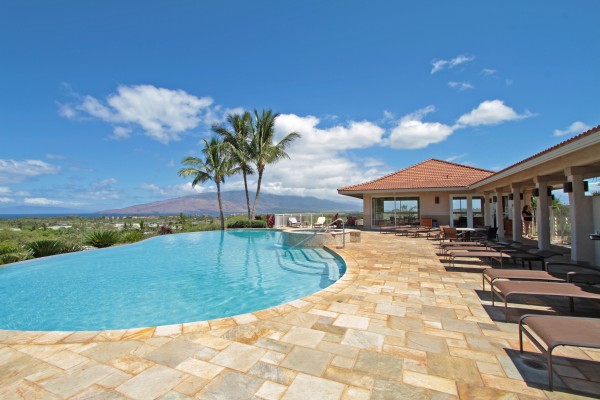 Hokulani Golf Villas' community pool house
Please feel free to stop by our new sales office located just Honopiilani Highway on Lipoa Parkway; we are located within the community. We are on-site from 9AM-5PM daily. We will always have a sales agent on hand to answer any and all of your questions.
Aloha,
Anthony Sayles R(S) 808-280-6532
Anthony@DanoSayles.com