Family Fun
St. John's Kula Festival is an upcountry staple for local families to look forward to every year! Aside from the transcendent views of Keokea, children can partake in carnival games while flowers, plants, gifts, and crafts will also be on display. This year in an effort to help raise funds/donations, there will be a $1 admission or one can of food for the Maui Food Bank, with children under 10 years of age free. Along with some ono grinds like Portuguese Bean Soup, chow fun, Maui Cattle company burgers, vegan curry, chili & rice, homemade baked goods, fresh Kula produce; live entertainment will include Kanekoa, recent Hoku recipients, the halau of Kumu Maka'ala Palmore, Joel Katz, Jamie Lawerence, Brian & Meryl, and Soul Kitchen.When: Saturday, September 23rd from 9:00 am to 4:00 pm. Where: St. John's church.
A fun way to spend the day and for the greater good, the 13th Annual Lahaina Town Clean Up & International Coastal Cleanup Day is a coordinated group effort to comb the coastline from Puamana to Mala Wharf for any trash or pollution; the main goal is to address prevention as a focus of the cleanup. In 2016, a little more than 500 volunteers did there part and worked with Maui County to make the beach and ocean better for all! Participation includes: Coffee and Pastries sponsored by Ruth Chris Steak House 8am-9am, ice cold water sponsored by Tropic Water during clean up from 8:00am-1:00pm, and a volunteer luncheon sponsored Pacific'O from 12:00pm-1:00pm. When: Saturday, September 16th, 2017 from 8:00am to 1:00pm. Where: meet at Kamehameha Iki Park in Lahaina.
Adult's Night Out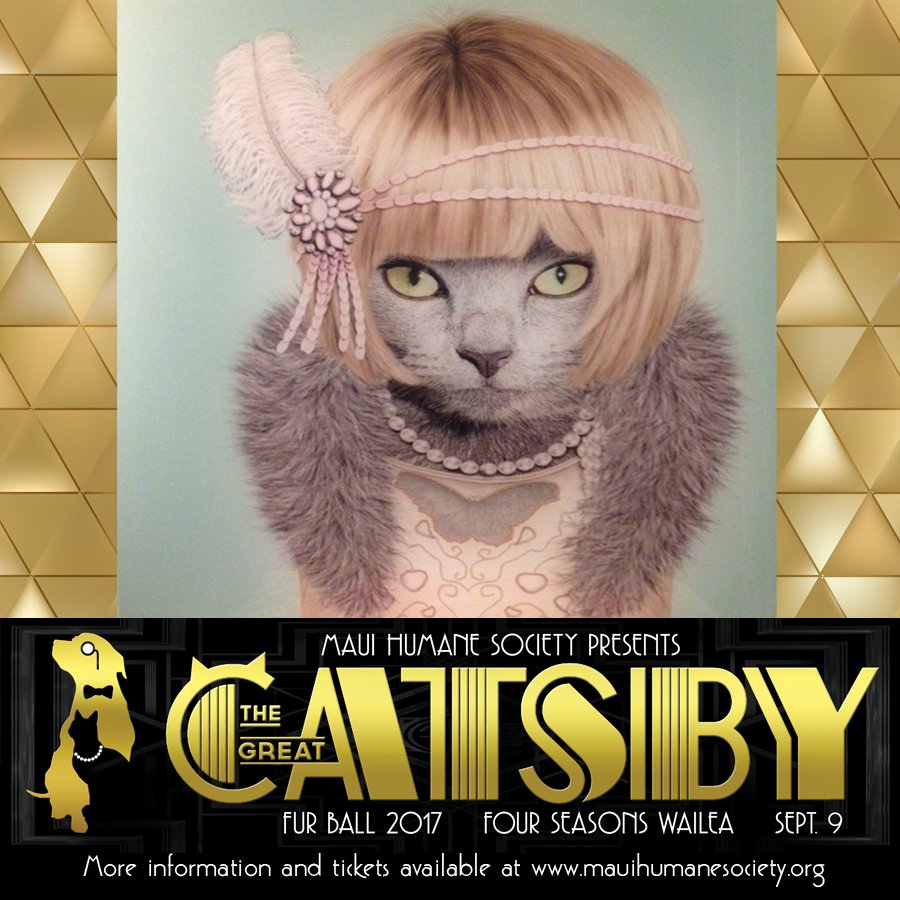 After an extremely successful turn out last year, the Fur Ball is back and ready to sell out again! "The Great Catsby: A Night of Purr-hibition", is for a great cause and goes to supporting the Maui Humane society who have serving the community for over 60 years and is Maui's only open-admission animal shelter. The theme of the night is the Roaring Twenties and will include a premier buffet dinner, no-host bar (two drink vouchers included with each ticket), live music and dancing, Silent and Live Auctions, and much more. A ticket to the event also includes $100 in casino chips to enjoy for use in their speakeasy casino. Tickets are $175 each and tables of ten are $1,750; TICKETS ARE EXTREMELY LIMITED, ONLY 40 OR SO LEFT!  To buy tickets or for more information, please visit our website at www.mauihumanesociety.org or contact our Donor Relations Coordinator at Donate@MauiHumaneSociety.org or call (808) 877-3680, ext. 219. When: Saturday, September 9th from 5:00pm to 10:00pm. Where: 4 Seasons Resort Maui.
The Arts & Culture
The Chinese Moon Festival is always a great cultural experience for the family and really everyone of all ages! Lahaina Town honors the local bounty of produce grown on island as well as showcases the traditions of Chinese culture. A wide range of activities include displays of lanterns and offerings to the moon goddess at Wo Hing Museum, while the kids can enjoy a hands on activity making paper lanterns. Everyone is welcome and given the chance to explore cultural activities, listen to traditional music, and partake in Chinese cooking demos. There is even a special treat, Chinese moon cakes are available for sale! The best part is it is FREE admission. When: Friday, September 29th to Saturday, September 30th, from 10:00 am to 8:00 pm. Where: Wo Hing Museum on Front Street.
When you are surrounded by water on all sides, the respect for the ocean and the activities surrounding it become part of the local culture. For Kai Lenny, the ocean is a playground as long as you are having fun! Paradigm Lost, A Film by Kai Lenny documents the notion of what a surfer is, riding huge waves and open-ocean swells on any means conceivable. Kai is an all around great guy, always positive, and happy to share his knowledge with the local grommets; he is a great role model for young water sports enthusiast. When: Friday, September 22, 2017 at 6:30 pm. Where: Maui Arts abd Cultural Center at the Castle Theater.
Contact a South Maui Real Estate Specialist
Enjoy amazing Wailea nights amongst flickering of tiki torches and soothing waterfalls
Please interview me to be your trusted Maui Real Estate and Lifestyle Advisor. I was born and raised on the island, and spend a considerable amount of time to inform my clients about the best deals currently on the market. Please do not hesitate to call me for your Maui real estate needs. I am more than happy to assist you in your home search.
Mahalo,
Anthony Sayles
(808) 280-6531
Anthony@DanoSayles.com